Top Rail Fence
Bixby, Oklahoma
Reviews
Read more
At Top Rail Fence, you can trust our expert fence contractors to get the job done right. Find professional fence installation services to secure your business or agricultural property. And see what makes us one of the best fence companies near you in Bixby, OK. Contact us to start a project with your local Top Rail Fence team today!
Get Your Free Estimate
All Fields Required
Get Your Free Estimate
All Fields Required
"*" indicates required fields
Areas Served
Glenpool
Kellyville
Kiefer
Mounds
Tulsa
Coweta
View All
Hours
Friday
9:00 am to 5:00 pm
Saturday
9:00 am to 4:00 pm
Sunday
8:00 am to 3:00 pm
Monday
9:00 am to 5:00 pm
Tuesday
9:00 am to 5:00 pm
Wednesday
9:00 am to 5:00 pm
About Top Rail Fence
It's our mission to deliver top quality fencing made to stand for years to come. That's been true since we were a small Veteran-owned fence company in South Carolina, to today as we proudly serve communities across the country. We provide free on-site estimates for each fencing project, from planning to choosing the best materials for your needs, and finish the job with expertly executed fence installation. Our Top Rail Fence team supports you at every step. Ready to get started? At your North Georgia Top Rail Fence we build wood fences, aluminum fences, chain link fences, vinyl fences, railings, and gates for residential, commercial, and agricultural properties. See why our customers trust us to provide lasting fencing, with every rail and every post.
Expert Fence Installation for Your Unique Needs
Boost the appeal of your home, safeguard your land, or secure your thriving business, with our dependable fencing solutions. Our team is ready to help you find the right fence design and style; explore our expert services and transform your outdoor spaces.
Residential Fencing
Choose professional fencing that complements your home's unique style. Explore residential fencing solutions for extra privacy, outdoor entertaining spaces, and increased safety for kids and pets.
View Residential Services
Commercial Fencing
Explore durable fencing built for your business's security. Install commercial fencing to control access to your property and add barriers to conceal employee-only zones. We can even repair your existing fences and gates.
View Commercial Services
Agricultural Fencing
Protect the herd and rein in rural acreage with fencing for farms and ranches. Keep horses and livestock safe with an easy-to-use fencing and gate system built just for you — we can even help set it up.
View Agricultural Services
Fencing Products at Top Rail South Tulsa
You can't go wrong with our huge selection of fencing products that are made to last and easy to maintain. For added privacy, security, and curb appeal, explore our range of fencing styles, designs, and materials options to make the perfect choice for your property.
See What We've Built
Need help envisioning what your fence will look like? Explore our gallery for examples of fencing projects we've completed for homeowners, businesses, and farm and ranch owners.
5.0
(7 reviews)
Steve Epp
An absolutely Amazing Fence Company… A great family business an the Workers were Amazing… Their prices are competitive… Front start to finish.. Will definitely use them again Steve & Saundra…
Nizam Rahim
Great staff of quality people that care to do the work right the first time. Highly recommend!
Philip John
Top Rail Fence is one of the easiest companies to work with. Their team is very friendly and actually cares about helping you and getting you what you want. I would highly recommend them for anyone looking for a new fence!
Dominic Halsmer
Top Rail Fence is a top-notch company. Kris and Carrie have the character and integrity to make sure the job is done right!
Cristi Freudenrich
Highly recommend Top Rail Fence South Tulsa. The company is locally owned and operated and cares about customer satisfaction and quality craftsmanship. Top Rail was able to provide a split-costs estimate for us, one which helped us share an adjoining properties' fence replacement with a neighbor. Neighbors were highly satisfied too!
Jason & Kathy Howell 2021
Carrie Orth & the Orth Team are great to work with … such nice people & the fence jobs turn out great!
Curtis Ellis
Super pleasant to work with.
The time it takes to install a fence all depends on the size of the project. You can expect most fence installations to take anywhere from two to four days. When you
get a free estimate
with Top Rail Fence, our experts will provide timing based on your specific job.
When choosing the best type of fence for your home or business, it's important to carefully consider the purpose of your new fence. Do you want a fence that provides added security, privacy, or one that serves as more of a decorative division of space? Our Top Rail Fence team can help you find
fence styles
and designs that meet your needs, fit your budget, and provide a long-lasting fencing solution.
Whether you will need a permit to install a fence largely depends on where you live. More densely populated areas are more likely to require one, while that may not be the case for rural areas. There may also be regulations on how tall your fence can be. The best way to find out if you need a permit is to check with your local government.
The price to install a fence depends on the material and time it takes to complete the project.
Requesting a free estimate
from Top Rail Fence is the best way to get an idea of the price of your project. Plus, our experts can answer your questions about
fence types
and how to get the most value for your fencing job.
Meet The Team
Meet The Team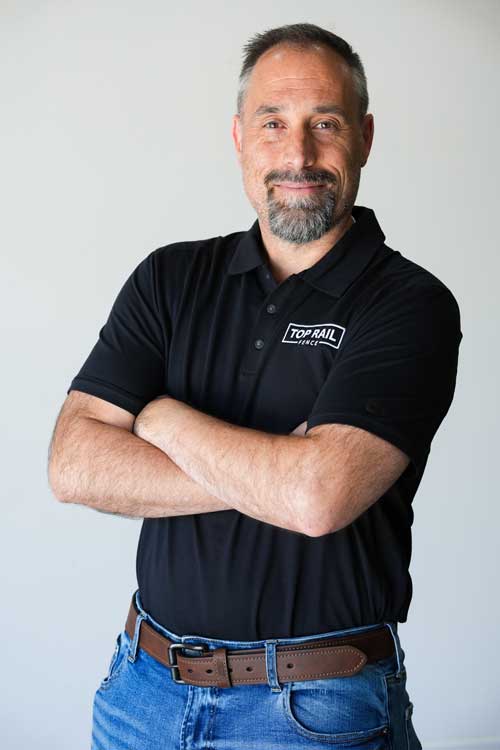 Kris Orth is co-owner and operator of Top Rail Fence South Tulsa. Kris has lived in the Tulsa community for over 24 years because it's a great place to raise a family! Kris has a Communications degree from Oral Roberts University and has extensive career experience in Operations and Project Management. Kris believes in doing all things with excellence – including your next fence! His attention to detail sets him apart and you can be confident he will deliver a quality fence with integrity and professionalism.
Outside of work, Kris enjoys spending time with his wife Carrie, their 3 adult children, and extended family. He is a dedicated member of his church, passionate about serving others, and strives to be the best husband and dad he can be. Kris' hobbies include playing and watching all things sports, snow skiing, and beach sitting. As an avid Philadelphia sports fan, it's not uncommon to find Kris engaged in friendly banter with the "locals". And, Kris thoroughly enjoys board games and puzzles, and hasn't met a dessert he doesn't like!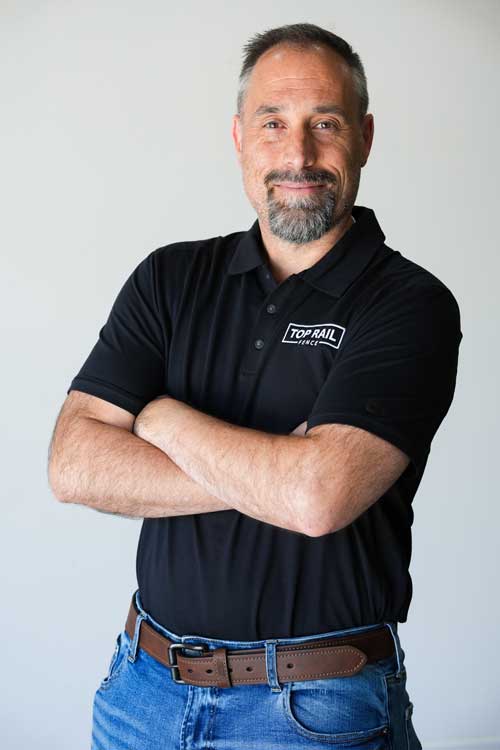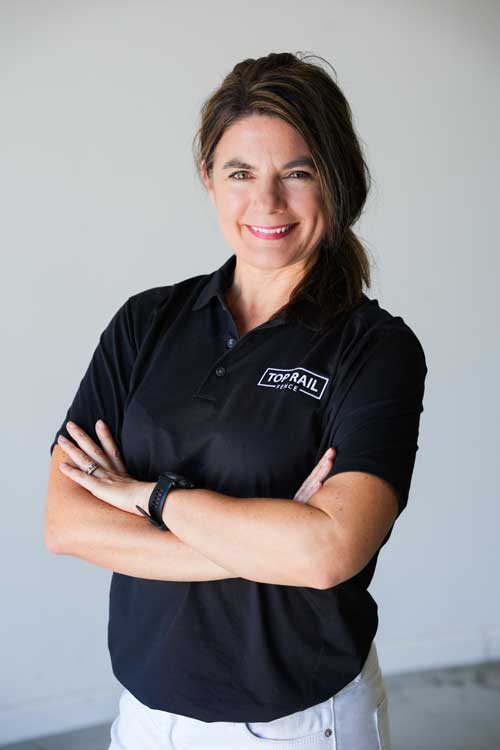 Carrie Orth, co-owner of Top Rail Fence South Tulsa, loves to meet with customers and enjoys understanding their fencing needs. Her priority is customer satisfaction. Carrie places great value on her client relationships and believes communication is key to providing her customers with a quality fence that can be enjoyed for years to come.
An alumnus of Oral Roberts University, Carrie has lived in the South Tulsa community for over 22 years. Carrie is married to Kris and together they have three adult children. She is actively involved in her church community where she serves in the hospitality ministry. She also acts as a mentor with the Royal Family Kids Club ministry where she enjoys the opportunity to support children who are in the foster care system.
Carrie enjoys being active and outdoors. She regularly makes running, biking, and strength training a part of her lifestyle. She loves living in the Tulsa area for many reasons, but mainly because of the warm and gracious people that call the great state of Oklahoma home.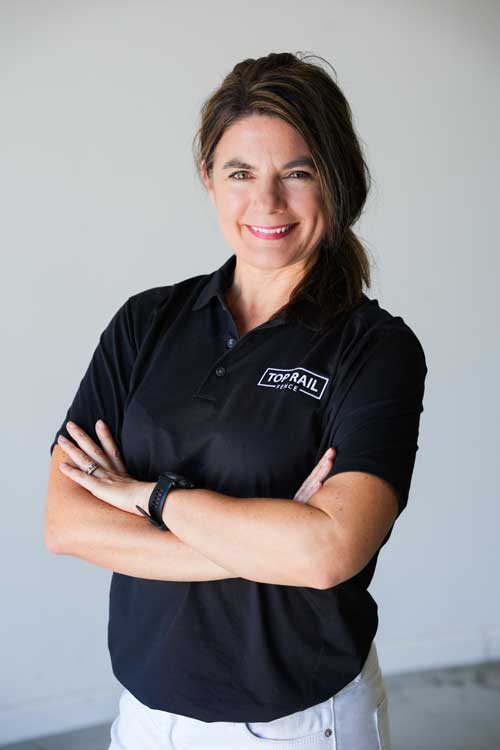 About Bixby
Bixby, OK combines the warmth of a small town with the convenience of nearby urban amenities. Known for its excellent school system, it boasts a family-friendly atmosphere.
If you're looking for entertainment in the Bixby, OK area, don't miss these options:
Charley Young Event Park: Enjoy outdoor concerts, festivals, and community events, at this fantastic spot to immerse yourself in live music and local culture.

Johnson Stepping Stone Cafe: Take a break in a cozy and inviting ambiance with a delightful menu that includes delicious comfort food.

Bixby Historical Museum: Explore captivating exhibits and artifacts that provide insights into the town's heritage.
In Bixby, OK, Top Rail Fence provides top-notch fencing services tailored to your property's unique requirements. Contact us today to enhance your home's security while maintaining its aesthetic appeal.